Teacher's explanation of the heat outflow of the Sun: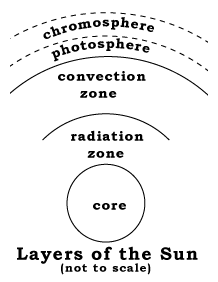 The heat of the Sun is generated deep inside, in the Sun's core, by protons combining to form helium nuclei (such "nuclear fusion" will be studied in a later lesson). This process require very high temperatures, and matter would not stay together at these temperatures, were it not for the pressure produced by the enormous weight of the other layers of the Sun.

The heat generated at the core moves outwards, towards the Sun's surface, by processes somewhat like the ones by which heat works its way through the atmosphere, from the surface of the Earth to space (section S-1).

No one of course can observe what happens deep inside the Sun, but a theory has been developed about the interior of stars, suggesting heat in the deepest layers travels by radiation. Atoms radiate light (or "electromagnetic radiation" related to light, like X-rays) and neighboring atoms absorb it. However, since the deep layers are compressed with atoms packed close to each other, the process is more like the conduction of heat. As heat moves outwards, the temperature keeps dropping, because net flow of heat can only take place from hot material to colder one.

Closer to the Sun's surface, the theory predicts, heat is carried by convection, as in the Earth's atmosphere (See Sweather1.htm)--by hot gas gas rising, giving up heat and returning somewhat cooler.. All these layers are still fairly dense, and any light emitted is quickly absorbed again. The photosphere is the final layer. Not enough material remains above it, allowing any light emitted there to spread out into space. It is a relatively thin layer, of the order of 100-200 kilometers

Because most sunlight comes from the photosphere, the much fainter chromosphere and corona are only seen during a total eclipse, when the light of the photosphere is completely blocked by the disk of the Moon.

However, astronomers can also view the Sun through special filters which reject all of the Sun's light except one or another narrow range of color ("spectral line," discussed in a later lesson). In some such colors, the chromosphere or the inner corona shine brightly enough to be seen even without a total eclipse.