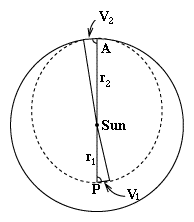 Application of Kepler's 2nd law

The drawing here shows the orbit of Mars (solid) and the transfer ellipse (broken line), with radiuses (r1, r2) to the (perigee, apogee) points, at which the spacecraft velocity is (V1, V2). The short segments drawn at these locations represent the distance covered by the spacecraft in the next second after passing perigee or apogee, and by the definition of velocity ("distance per second") they also equal V1 and V2. Actually, those segments should be curved like the orbit, but being so short they differ negligibly from straight lines We then complete the long thin triangles, which have these lines as bases.

Note that each of these triangles has a right angle at its bottom, because at apogee and at perigee (and nowhere else), the line to the Sun is perpendicular to the orbit.

At perigee, the height of the triangle is r1, the length of its base is V1, so by the equation for the area A1 of a triangle


A = (1/2) (height) (base)


we get

A1 = (1/2) r1 V1


At apogee, the height is r2, the base V2, and the area is


A2 = (1/2) r2 V2

Each of these triangles is swept in one second, so by Kepler's 2nd law their areas can be set as equal. Multiplying both sides of that equality by 2 yields


r1 V1 = r2 V2 (1)

The equation is numbered to help refer to it later. Please note this relation only holds between apogee and perigee. At other points of the orbit, the angle between the radius and the orbit is not 900, and the area also depends on its exact value.

Kepler's third law was already used in determining the orbital period. It will be needed again at the end.

(2) The Energy Equation

In section #12 it was stated that the energy E of a satellite of mass m orbiting Earth, at any point in its orbit, is

E = (1/2) mV2 – km / r (2)


where r is the point's distance from the center of Earth, V is the satellite's velocity at that point, and k is some constant, related to the gravitational acceleration g. Because the energy E is conserved, the right-hand expression has the same value anywhere on the orbit. A similar relation holds for orbits around the Sun, although the value of k is different. We can express k in that case by using a simple trick, based on the escape velocity.

As noted earlier, for an object in the Earth's orbit to completely escape the Sun (but just barely!), it needs a velocity Ve = 1.414..V0 = 42.42 km/s. Let E0 be the energy of such an object. Then since

Ve2 = 2 V02

we get (at the Earth's orbit)

E0 = m V02 – km / r1

Because it has escape velocity, if we wait a long, long time, this object will be extremely far from Earth, and, having exhausted practically all of its kinetic energy, its velocity will be very close to zero. Then both terms on the right side of equation (2) tend to zero, suggesting


E0 = 0


The above fits the meaning of the sign of E:
Negative E always identifies elliptic orbits bound to the Sun, like those of planets. Positive E characterizes unbound "hyperbolic" trajectories, like that of the space probe Voyager 2, on its way out of the solar system and into the wide black yonder, always maintaining an appreciable velocity. And motions with E=0 are "parabolic" and lie on the boundary between the two groups, not limited in distance but slowing down to a crawl as that distance grows. Orbits of non-periodic comets come close to this behavior.




So we have


m V02 – km / r1 = 0

Dividing by m and shifting the negative Ve term to the right


V02 = k / r1

from which the value of k may be written


k = V02 r1 (3)
Calculation
In earlier sections we approximated



r1 = 150,000,000 km V0 = 30 km/sec


In what follow more precision will be used, taking the astronomical unit as



r1 = 149,598,000 km


A circular orbit around the sun with this radius has length



2 π r1 = 938,952,000 km


and assuming a Julian year of 365.25 days of 86400 seconds each gives



V0 = 939,952,000 / [(365.25)(86400)] = 29.785 km/s

(Rather than 30 km/s)

V02 = 887.163 (km/s)2 k = 1.32818 1011

Returning now to the spaceship in a Mars transfer orbit, its energy should be the same at the perigee P and the apogee A, so by equation (2)


1/2 m V12 – km / r1 = 1/2 m V22 – km / r2

Divide both sides by m ("cancel m") and multiply both sides by 2


V12 – 2 k / r1 = V22 – 2 k / r2


Transferring terms (by adding suitable quantities to both sides) and substituting (3) gives

V12 – V22 = 2 V02 r1 (1/r1 – 1/r2)

&nbsp = 2 V02 (1 – (r1/r2)) &nbsp (4)

In astronomical units

r1 = 1 &nbsp r1 = 1.523691

so


r1 / r2 = 0.656301 &nbsp 1 – (r1 / r2) = 0.343699


We therefore have all we need to calculate the right side of equation (4).

2 V02 (1 – (r1/r2)) = 2 (887.163) (0.343699) = 609.834 (km/s)2

On the left side we have two unknown quantities V1 and V2, but we can use (1)


r1 V1 = r2 V2

to express one in term of the other.


&nbsp V2 = V1 (r1/r2) (5)


Squaring

V22 = V12(r12/r22)

Substituting this on the left side of (4)

&nbsp V12 – V22 = V12 (1 – (r12/r22)) =

= V12 (1 – (0.656301)2 = 0.569269 V12 = 609.834 (km/s)2

Dividing both side by 0.569269


V12 = 1071.26 (km/s)2



Extracting square root


V1 = 32.730 km/s

Applying now equation (1)



V2 = V1 (r1 / r2) = (32.730)(0.656301) = 21.481 km/s


showing we need add just 2.945 km/s, a shade short of 3 km/s or 10% of the orbital velocity.
Arrival at Mars
The velocity V2 at which the spaceship arrives at Mars is found from (5)



V2 = V1 (r1/r2) = (1 / 1.523691)( 32.730) km/s




= 21.4807 km/s

It has given up some of its kinetic energy to overcome the pull of the Sun and moVe further outward from the Sun. The big question now is--how does this compare with the velocity V3 of Mars in its orbit?

To derive a velocity in km/s, distances must be ultimately rendered in kilometers and times in seconds, but "for the benefit of pedestrians," we break up the calculation, avoiding big numbers and scientific notation. We start with Kepler's 3rd law for circular orbits, with distance r in AU and orbital period T in years. As derived in the preceding section (and also in section #10), in these units

T2 = r3

For Mars, r = 1.523691, T2 = (1.523691)3 = 3.53745

T = 1.8808 years

Assuming 365.25 days per (Julian) year:

T = 1.8808 years = 686.96 days

During that time the spaceship covers

2 π r = (6.2832) (1.523691) (149,598,000) km = (1432.2) (1,000,000) km

Dividing by T, this comes to

(1432.2 / 686.96) (1,000,000) = (2.08484) (1,000,000) km/day




= 2,084 840 km/day

Each day has (24)(3600) = 86400 seconds, so the orbital distance covered by Mars each second is

2,084,840 / 86400 = 24.130 km

Distance-per-second is of course the definition of velocity. Therefore


V3 = 24.130 km/s


Comparing to

V2 = 21.481 km/s

we see that Mars is the one moving faster, and will be overtaking the spaceship. To match velocities with Mars, the spaceship must generate an extra boost of 2.649 km/s .